RACE RECAP - Spartan Sprint in Al Ain Zoo
"Ladies and gentlemen, what you're about to witness, is no illusion..."
News outlets this week reported that tremors were felt throughout the UAE, with many scientists commenting that they were due to an earthquake. This publication can confirm it was not an earthquake, it was OCR Nation.
At this most recent Spartan race, held in Al Ain Zoo, OCR Nation made history by forming the largest team ever to grace a Spartan Event. Over 150 people ran together, taking over an entire heat and forming a stream of black and gold which spanned the entire length of the course.
Let's start at the very beginning, a very good place to start. Our fearless leaders Bash, Ivana and Babara started OCR Nation and by doing so, created a place where people could share their love of obstacle course racing, fitness, challenging yourself and most of all, a be part of a community, or more accurately, a family. When the team started racing, we would often run as a group, worrying less about finishing times and more about the enjoyment of running the race together, as a team. They say it is better to give than to give than to receive and helping newer racers over obstacles is a huge part of the enjoyment for the more experienced members of the team. After all, we can all remember how daunting your first race can be. Since then, the team has continued to compete in OCR races, but our members have been split over the open, competitive and elite categories.
Just a few weeks ago, Hamza said to Bash, "let's do it like we used to, let's run as a team". That moment was the spark that led to the moment you see below. Over 150 OCR Nation members taking over an entire Spartan Race heat.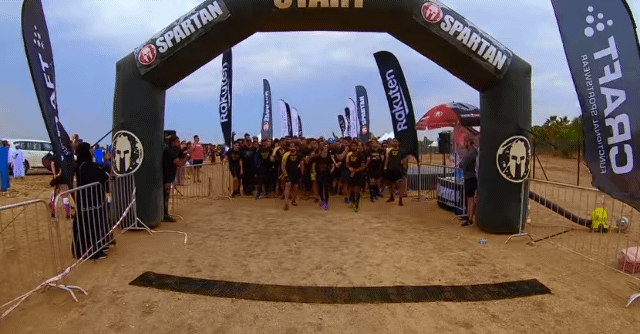 But the day was not only about our team running as one unit. The day began with members of the team competing in the elite age age group categories. Just to make things even more challenging, the rain began to pour, making the obstacles that bit more slippery for these races. These races were again a huge success for the team, with numerous members of the team managing to secure a podium finish. Our elite champ Mo Mira once again showed us why he is destined for greatness with a 2nd place finish in the elite category.
The open heat saw us set off together and quickly spread out across the course as more experienced members of the team were there to ensure newer members were given advice and assistance as they tackled their first OCR event. Examples of camaraderie were shown all over the course, with Mo Balooshi handing out water, Karim and Bash helping people over the walls and Dave pulling people over the slip wall, it was truly a team effort.
The course featured a hard gravel surface and some treacherous terrain, but these were a far sight from the soft sand and rock climbing of Mleiha just a few weeks ago. The race offered some breathtaking views and even the opportunity to see the various animals which call the zoo their home. One highlight had to be the second barbed wire crawl, which was through muddy water (which smelled suspiciously like animals), ensuring that anyone who had avoided getting too muddy was covered by the end of the race!
The finish line brought the infamous fire jump and that sweet sweet bling of a Spartan medal.
Once the race was over, the team congregated in the festival area to continue the party. That was the moment that Spartan Arabia announced the winner of the biggest team for the event. We all stood together on (and all around) the podium to collect the trophy and share glory of being part of something special.
More photos were taken of the day than we could possibly share. It seemed like every moment was one which needed to be captured. Even more can be seen on our instagram @OCR.Nation.
Our resident cameramen Paddy and Dave captured the race on their trusty GoPros and their hard work can be seen below. Get a cup of tea, make yourself comfortable and enjoy!
If you want to be part of the next race and run with the biggest OCR team in the Middle East, follow us on Instagram, get yourself signed up for the Spartan Stadion Sprint in Abu Dhabi and run with OCR Nation. Remember, we are #StrongerTogether.